Aging Well Program
(Click to enlarge pictures)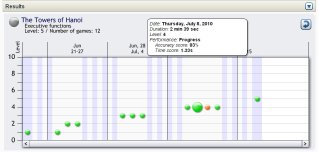 Detailed history of one specific game performance
The Aging Well Program is a specialized program designed for those diagnosed with Mild Cognitive Impairment as well as healthy seniors who may be concerned about their cognitive abilities.
The program has been designed by Dr. Bernard Croisile, M.D. Neurology, Ph.D. Neuropsychology, Department head at Neurological Hospital, Lyon France. This program is based on a proven product, Activital, which is used in hundreds of retirement homes in Europe.
Click HERE to try the program FREE for 30 Days.
Program Features
The Aging Well Program consists of
A Series of 22 exercises organized into 5 modules:
Program progression rules

Each game consists of nine levels.
The patient is invited to start at level 1 and, based on successful performance they may progress to higher levels.
At any given level achieved, all lower levels are playable

The designs of the games have been optimized for the unique needs of seniors. For example:

smaller game problem sets, game hints, unlimited time for completion, along with large fonts and buttons.
Many of the games are suitable for use with touch screens.

The patient cognitive profile (compliance and progress) is visible to the therapist and optionally visible to the patient.
The ideal training intensity for positive outcomes is 30 minutes a day, 5 days a week.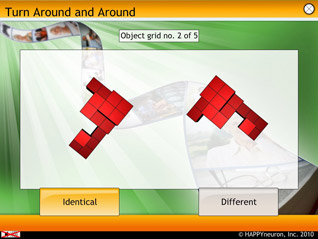 Sample of game screen
Testimonials
"Scientific Brain Training PRO delivers highly engaging cognitive skills training programs. Our patients are motivated to work on these web-based exercises because of the appeal of the exercises themselves, and because they are able to track their own progress and performance." Enid Gertmenian, LMSW, Lieber Recovery and Rehabilitation Clinic, New York City
"Our residents feel their skills are enhanced thanks to their work with the Aging Well program. They are very motivated by these new formats of memory workshops." Ms. Desroches, Therapist, La Providence Nursing Home, Le Coteaux, France
"Thanks to the Aging Well program, we have been able to educate our residents to basic computer use and mobilize them around a common project." Ms. Gelas, Director, Vernaison Nursing Home, France
"Thanks to its suitability for seniors, the Aging Well program is a very attractive way for them to work on their memory." Ms. Gomez, Therapist, Villefranche-sur-Saône Nursing Home, France
"Getting familiar with the computer worked miracles on our residents' self-confidence." Miss Bouchelouh,Therapist, Les Jardins d'Hestia Nursing Home, France
Clinical Validation
The Scientific Brain Training PRO Aging Well and other programs have been validated in a number of clinical studies.
Module Catalog

Memory
This module contains games which train long-term memory on both visual and verbal dimensions.
Attention
These games train attention and working memory.
Executive functions
This module is specifically designed to train executive functions, including reasoning (capacity to make deductions from hypotheses) and strategy. It contains language-based tasks and visual activities.

Language
These games train multiple facets of language including comprehension, vocabulary and lexical fluency.
Visual and Spatial Abilities
This module contains games designed to train visual and spatial abilities. It aims at training player's visual mental imagery and more particularly mental rotation in a 3D space.