The CR-Psychiatry Program
(Click to enlarge pictures)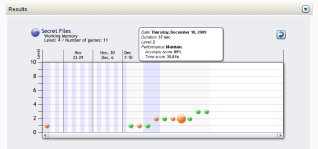 Detailed history of one specific game performance
The Cognitive Remediation in Psychiatry Program provides a specific methodology for cognitive stimulation, which proved to be efficient in the treatment of schizophrenia and depression. The program comprises a set of specific exercises with pre-defined levels and sequences. The program was designed in partnership with Dr. Pascal Vianin from Lausanne Hospital in Switzerland and Pr Roland Jouvent La Pitié Salpétrière Hospital, Paris, France.
The CR-Psychiatry Program's exercises were shown to be clinically effective in the RECOS Method of Psychiatry Departement of Centre Hospitalier Universitaire Vaudois (DP-CHUV) in Lausanne, Switzerland, an other studies nearing completion now.
Click to try the program FREE for 30-Days.
Program Features
The CR-Psychiatry Program consists of
A Series of 21 Exercises organized according to the MATRICS cognitive assessment classification system

Patient progression rules

Each exercise has 10 pre-defined challenge levels
The patient starts each exercise at level one.
With two successful exercise results (100% accuracy) at one level, the patient graduates to the next level.

Clinician has detailed views to the patient's progression through the program.

Graphically view the patient activity level and progression achievement level for each targeted cognitive exercise.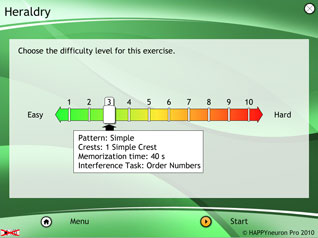 Sample of detailed control panel for selecting difficulty level
Testimonials
"The CR-Psychiatry program offered at www.ScientificBrainTrainingPro.com is the best material I have ever seen for cognitive remediation for my patients." Torben Christensen, Ph.D. Clinical Psychology, Aarhus University Hospital, Risskov, Denmark


"Scientific Brain Training PRO CR-Psychiatry Program delivers highly engaging cognitive skills training programs. Our clients are motivated to work on these web-based exercises because of the appeal of the exercises themselves, and because they are able to track their own progress and performance." Enid Gertmenian, LMSW, Lieber Recovery and Rehabilitation Clinic, New York City


Clinical Validation
The Scientific Brain Training PRO CR-Psychiatry, and other programs have been validated in a number of clinical studies.
Click here for more information about Cognitive Therapy in Schizophrenia or in Depression.
Main Scientific publication:
Vianin, P., Deppen, P., Croisile, B., Tarpin-Bernard, F., Sarrasin-Bruchez, P., Dukes, R., Grillon, M. Exploratory Investigation of a Customized cognitive remediation program for individuals living with schizophrenia. The Journal of Cognitive Rehabilitation, NeuroScience Publishers, Volume 28. Fall 2010, pp 11-21, Click Here to Get an Electronic Copy
Module Catalog

Processing Speed
This module includes activities which require answering quickly. In addition, it trains the subject's sustained attention as he has to maintain performance and vigilance over a long period of time.
Selective Attention / Vigilance
These exercises train the ability to remain focused on a task or source of information.
Working Memory
These exercises train the ability to temporarily maintain and process information necessary for cognitive activities.
Verbal Learning
This module includes perfect exercises to improve verbal memory. It also helps build a strategy (place words into categories for example) to effectively remember a list of words.
Visual Learning
This module contains exercices designed to train visual and spatial abilities. It aims at training the patient's visual mental imagery and more particularly mental rotation in a 3D space.
Reasoning and Problem solving
This module is specifically designed to train reasoning (capacity to make deductions from hypotheses). It contains language-based tasks and visual activities.
Auditory
This module contains exercises which involve auditory working memory.