The Memory Treatment Program

The Memory Treatment Program provides clinicians with a targeted way of using the Scientific Brain Training PRO exercises to treat memory impairment. Exercises in this program have been utilized by the Alzheimer's Treatment & Memory Training Centers of America for nearly a decade to treat more than one thousand patients suffering from early stage Alzheimer's disease, Mild Cognitive Disorder and other causes of memory impairment. The Memory Treatment Program has been developed in partnership with MTCA's Director of Operations and Clinical Training, Dr. Bruce Brotter, who has supervised clinicians' use of these exercises with individuals experiencing memory impairment at more than 30 Assisted Living/ Senior Retirement communities as well as free-standing out-patient Centers nationwide.
Professionals are able to utilize the program according to the clearly-defined configurations already established, or can manually control the level of difficulty and select specific exercises to meet the individual needs of each patient. Since this is a program to be used by mental health professionals who are licensed and certified to treat patients suffering from memory impairment, clinicians are urged to visit the MTCA website and complete a certification form, free of charge.
In order to develop the clinical expertise required to administer the program with optimal effectiveness, clinicians are also encouraged to obtain a manual and seek additional training and consultation from MTCA. These services can be purchased on the MTCA website. The training manual provides: demonstration of a model memory training session via an hour-long DVD; recommendations for initial evaluation procedures; and recommendations for a cognitive battery to determine patient level of memory impairment and inform treatment planning.
Click HERE to contact our partner and experience our common program in one his numerous training centers.
(Click to enlarge pictures)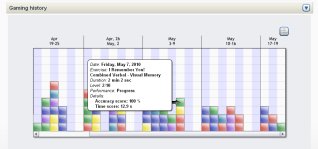 View detailed summary of session exercises
Program Features
The Memory Treatment Program consists of a series of over 17 Exercises grouped into 5 modules:
The Memory Treatment Program additionally allows the Clinician to:
Assess the patient's level of cognitive impairment based on an initial level of performance
Graphically view the patient performance/impairment level and progression level for each exercise in the assigned module(s) via tables and longitudinal graphs, etc.
Determine an optimal treatment plan of modules/exercises, based on patient complaint and performance
Use pre-determined automatic rules of progression to optimize individual programs and create a unique patient experience
Utilize clinician-determined length of time in recall phase to exercise working memory vs. strengthening of patient capacity for storage of new information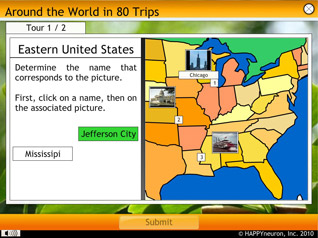 Sample of an exercise
Click here for more information about the benefits of Professional Memory Training.
Module Catalog

Visual Memory
This module includes a series of multi-level exercises to train many aspects to visual memory, including strategies to effectively remember visual markers, cues and other material.

Verbal Memory
This module includes exercise to improve verbal memory. The exercises help to build a strategy to effectively remember words and written materials and instructions.

Combined Verbal - Visual Memory
This module contains exercises to train the process of memorization and recall of people, places and events and conversations.

Auditory Memory
The auditory channel is a major source of inbound information for individuals. This module trains the attention and auditory memory, as well as capacities to recognize and discriminate sounds.

Attention and Concentration
This module provides creative exercises to train a patient's visual attention and concentration skills.

Language
This module provides an exercise to train word retrieval, anticipation and discrimination.