The Rehabilitation Program
(Click to enlarge pictures)
The Rehabilitation Program is an open way of using the Scientific Brain Training PRO exercises for treating a wide variety of cognitive impairment conditions, including Traumatic Brain Injury (TBI), Stroke, Learning Disabilities, ADD and more..
This powerful open access enables thousands of unique tasks, allowing professionals to precisely adapt to patient's specific needs. The program is suitable for patients of any age.
Click to try the program FREE for 30-Days.
Program Features
The Rehabilitation Program
Exercises

Over 28 unique exercises in 9 modules (see below)
All exercises delivered through engaging interactive games
Thousands of unique exercise combinations in each game

Clinician can

Select the exercise variants from a detailed game control panel
Assign the activites to the patient
Graphically view the patient activity and progression achievement level for each exercise in the assigned module(s) via tables and longitudinal graphs, etc.
Work side by side with the patient and/or communicate with the patient with built-in message exchange and notices.

The Patient can

Select the exercise variants from a detailed game control panel, along with the clinician or therapist
All variants are available at all times without restriction
Exchange messages with the therapist if at home.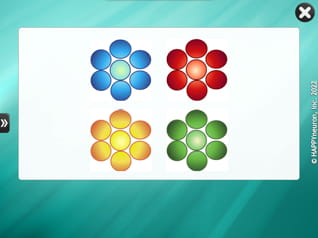 Sample of detailed control panel for selecting game variables
Testimonials
"Scientific Brain Training PRO is extremely therapist friendly. You can monitor patient compliance with home exercises." Rehab Therapist, MS, CCC-SLP, CBIS, Peace Rehabilitation Center, Greenville Hospital System, University Medical Center, Greenville, South Carolina.
Module Catalog
Executive Functions
This module is specifically designed to train executive functions, including reasoning (capacity to make deductions from hypotheses) and strategy. It contains language-based tasks and visual activities.

Verbal Memory
This module includes perfect exercises to improve verbal memory. It also helps build a strategy (place words into categories for example) to effectively remember a list of words.

Visual Memory
The exercises included in the module will help you to train visual memory using abstract symbols or exotic characters. It also helps pay attention to visual details.

Verbal And Visual Memory
This module contains exercises which train simultaneously verbal and visual memory (menus in a restaurant or cities in a trip).
Spatial Memory
These exercises train abilities to remember locations of items using specific strategies like grouping items or defining patterns.
Visual and Spatial Abilities
This module contains 4 exercises designed to train visual and spatial abilities. It aims at training the patient's visual mental imagery and more particularly mental rotation in a 3D space.
Visual Attention
This module contains exercises designed to train visual attention. In particular, patients need to pinpoint relevant information, visually scan details and keep mind focused on looking for differences.

Processing Speed
This module includes activities which require answering quickly. In addition, it trains the subject's sustained attention as he has to maintain performance and vigilance over a long period of time.
Auditory
This module contains exercises which involve auditory working memory.
To come
Exercises to come